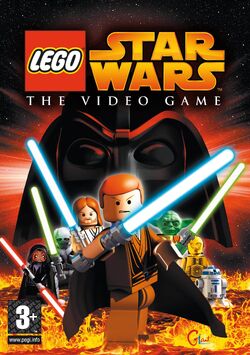 LEGO Star Wars: The Video Game
is a video game based on the Star Wars–themed toy line by the LEGO Group, taking place during the prequel trilogy (The Phantom Menace, Attack of the Clones and Revenge of the Sith), and a small segment from A New Hope although all with some humorous sidelines. LEGO Star Wars was released on April 5, 2005, a full month before the final Star Wars film premiered, which surprised most people since the game contains many spoilers about the movie.
It was developed and published by Traveller's Tales and Giant Entertainment for the Xbox, PlayStation 2, and Windows, with Griptonite Games developing the Game Boy Advance (GBA) version. All versions were distributed on April 5, 2005 by Eidos Interactive. It was later released on the Apple Macintosh by Aspyr in August 2005, then on the GameCube in October. David Whittaker was one of the video game's composers. While billed as a kids' game, it peaked at the top of the UK charts during early May 2005, losing the spot to the official game of Episode III, but remaining for the rest of the month on the top spots of the chart.
Characters
Levels
Notes
Community content is available under
CC-BY-SA
unless otherwise noted.